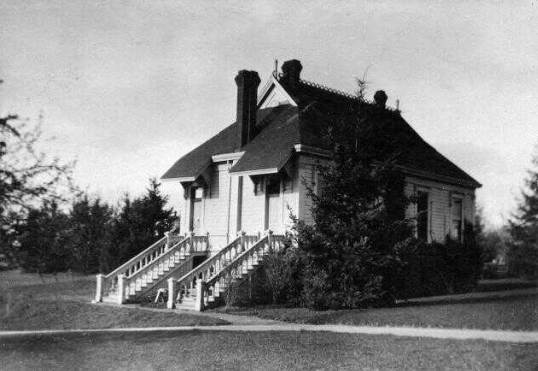 Today Benton Annex houses the Women's Center, but since opening in 1892 this small building has hosted the Agricultural Experiment Station, a chemistry lab, the Mining Department, the OAC Co-op bookstore, Student Health Services, and the paleontology lab. Not only has it had many occupants, it has also had many names! You'll find references to this building as the Station House, chem shack, Paleontology lab, and starting in 1973, the Women's Center.
The College of Business (originally known as the School of Commerce) has been headquartered in Bexell Hall since 1922, when the building was completed. In the 1923/24 academic year, more than one quarter of all Oregon Agricultural College students (917 out of 3199) were enrolled in the School of Commerce. The next largest enrollment was 486 students in the School of Home Economics.

Women in costumes in the School of Commerce classroom in Bexell Hall.

Bexell hall as seen from the outside circa 1933

Bulletin board for Business & Technology in Commerce Building.

Computer labs became an integral part of OSU's educational infrastructure in the late 1980s.
Address: Benton Annex, 1700 SW Pioneer Pl, Corvallis, Oregon
Edit
|
Back