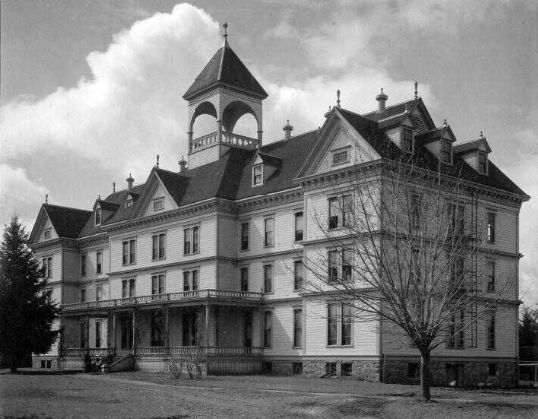 Built in 1892 as a dormitory for men, Fairbanks Hall was originally known as Cauthorn Hall, named for state Senator and OAC Regent Thomas Cauthorn. When first opened, the dorm could accommodate more than 100 students, with "amenities" including water, steam heat, electric lights, dining room, and a kitchen. Kidder Hall was converted into a classroom building in the early 1930s, and then renamed Fairbanks Hall in 1964 for J. Leo Fairbanks, former head of the Art Department.
The College of Business (originally known as the School of Commerce) has been headquartered in Bexell Hall since 1922, when the building was completed. In the 1923/24 academic year, more than one quarter of all Oregon Agricultural College students (917 out of 3199) were enrolled in the School of Commerce. The next largest enrollment was 486 students in the School of Home Economics.

Women in costumes in the School of Commerce classroom in Bexell Hall.

Bexell hall as seen from the outside circa 1933

Bulletin board for Business & Technology in Commerce Building.

Computer labs became an integral part of OSU's educational infrastructure in the late 1980s.
Address: 220 SW 26th St, Corvallis, Oregon
Edit
|
Back